Social Eats Cafe Project 607 is your "third place". In community building, the "third place" is the social surroundings separate from the two usual social environments of: home "first place" & the workplace "second place". It's what will make our East End Main Street location so unique.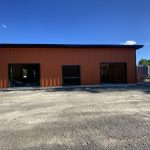 We are building you a relaxed social space, with an open feel that you will be able to gather regularly.  I've designed the space to be sure that whether you are interested in a friendly gathering with friends/family or quiet solo moment, there will be a place for you.  You will have the opportunity to grab and go and/or sit and chill.  Our front and rear garden patios will be flooded with sunshine, birds singing & fresh Central New York mountain air for your to enjoy, year round! Our hope is to keep you close to nature while you visit, creating a memorable experience that is welcoming and cozy.  We are much closer to serving you, and we can't wait!
Building update:  The exterior siding is complete. Have you seen the burst of color on the East End corner?  What do you think about it? We had hoped to have the building secure by now with plumbing and electrical work moving along, but as we all are well aware, the pandemic is delaying our progress.  Without much more needed explanation, we have had some minor delays.  Our garage doors were scheduled for June 10th, but we are currently not expecting them onsite until the first week of July.  The glass for our doors and windows will be put in sometime thereafter.  Keep your finger-crossed!  Bridging this cafe build-out with local tradesmen and businesses has been a top priority for us.  We have hired some local families, right here in our Otsego County, that have so much heart in what they do.  I can't express how grateful I am to have the pleasure of working with them, and their creativity and flexibility.  We are lucky!!!